20 January 2010
"Howl" recreates Harold Chapman's photograph
The documentary turned fiction film "Howl" will be premiering at Sundance tomorrow night, and I for one cant wait for it to get released.
I was also extremely interested to see that one of the promotional stills released from the film was a reenactment of one of Harold Chapman's photos of Allen Ginsberg and Peter Orlovsky. Its a great photo, possibly one of his best of the couple. Harold tells a wonderful story about walking around the streets of Paris with the two and taking that photo which he felt completely summarized their respective viewpoints on the world, with Ginsberg looking happily outward at the people walking by and Orlovsky looking morosely up and away in his own thoughts. It looks like James Franco and Aaron Tveit have done a wonderful job recreating those expressions.
I can't wait to see this film!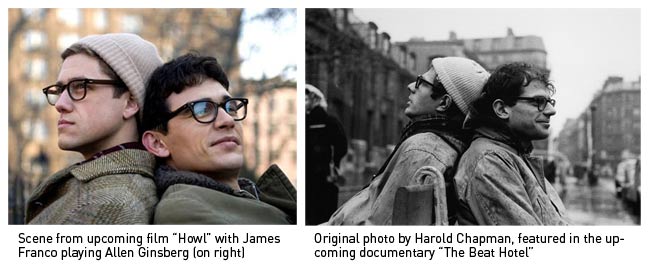 Posted by beatAdmin | January 20, 2010 | Filed under
News